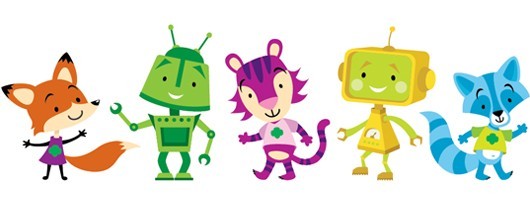 You're Invited!
There's no party like a Girl Scout Party!
Designed for any girl who hasn't become a Girl Scout yet—you're invited! Bring a friend, make new ones, and build a rocket, robot, or flower crown with GIRL SCOUTS at these FREE events!

Rocket Launch Party
Saturday, Jan. 9, 11 a.m.
Thursday, Jan. 21, 7 p.m.

Robot Building Party
Wednesday, Jan. 13, 4 p.m.
Monday, Jan. 25, 5:30 p.m.

Flower Crown Party
Tuesday, Jan. 19, 6:30 p.m.
Friday, Jan. 29, 6 p.m.
WHO: All girls in grades K-12 (and their parents/caregivers)
WHERE: Virtual
WHY: Experience the fun and friendship of Girl Scouts!
Through Girl Scouts, your girl will have fun, challenge herself, and discover new passions—all while making new friends! And none of that stops even as we navigate uncertain times. We can't wait to meet you and share how Girl Scouts can brighten your girl's world.
As soon as you sign her up for Girl Scouts, she can connect with other girls in a virtual or traditional troop, earn badges, and participate in live, virtual events. And, in January, she'll be a part of the largest female entrepreneurship program in the world—the Girl Scout Cookie Program! Plus? Girl Scouts is FUN!
Girl Scouts grows with your girl. That's what makes her journey with us so special.
Ready to Join Girl Scouts? 
Girl Scouts Western Pennsylvania is thrilled to welcome you and your girl! Membership dues are just $25 annually, but financial aid may be available. Whether you have questions about starting a new troop for your girl and her friends, joining an existing troop, or something else, send us a note at customercare@gswpa.org or call us at 800-248-3355. We're here for you!
When your girl becomes a Girl Scout, she'll:
Join a group of local girls—called a troop—for regularly scheduled meetings (either virtual or in person)
Make new friends in a space where she feels comfortable to just be herself
Have a community of caring adult volunteers to guide her as she tries new things
Practice new skills and earn Girl Scout badges and awards
Make the world a better place by helping her community
Try coding, robotics, engineering and more through hands-on STEM activities
Enjoy the great outdoors while learning how to protect animals and the environment
---