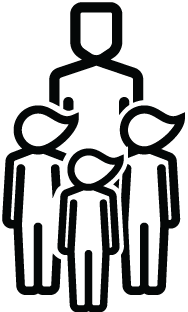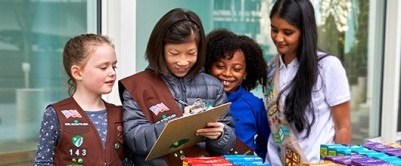 This cookie season, let's show 'em how the largest entrepreneurial program for girls in the world prepares you to lead, learn, succeed, and shine—not only for today but also for the future—by entering the Cookie Pro™ contest! Open now through March 31, just tell us about your unique cookie business smarts for your chance to win a magical VIP experience in Orlando, FL with exclusive access to iconic theme parks and G.I.R.L. 2020! ! Enter Now.
Continue >

The Girl Scout Family Connection is your family's go-to, super fun guide to getting the most out of this year in Girl Scouts! It's a resource packed with helpful tips and fun activities for the whole family. (You might even have a copy already, so ask your Girl Scout if she received one, and check the mail, too!) Download yours now.
Continue >

Our volunteers are committed to making sure their Girl Scouts experience awesome adventures, and our council just made it even easier! We created the GSWPA Adventure Guide as a resource to navigate you to the newest GSWPA activities. The guide will be updated with newly posted activities for girls of all levels. And, you can even sign up for email notifications—never miss a new activity again!
Continue >

Patch programs provide Girl Scouts an opportunity to enjoy a variety of activities while earning a fun patch. Check out the new patch programs added each month!
Continue >



2020 Girl Scout Cookie Season Launches with New Cookie and New Packaging
07 Jan 2020
As the 2020 Girl Scout Cookie season launches, Girl Scouts in our region become entrepreneurs and earn money to power their own leadership opportunities and adventures. This season brings two sweet, new ways to celebrate young, female leaders: refreshed packaging reflecting the amazing experiences cookie earnings make possible for girls and a new lemon cookie.

Celebrate National S'mores Day with Girl Scouts
29 Jul 2019
Saturday, August 10 is National S'mores Day and Girl Scouts Western Pennsylvania (GSWPA) invites all girls in grades K-12 and their families to celebrate at special events across western Pennsylvania.