Meet Savannah the Rhino, the mascot of our fall product sale, MagNut! You'll see this remarkable rhino more when MagNut kicks off, but for now, Savannah has some free time and is ready for an adventure! Take her along on your summer fun!
Continue >

Our volunteers are committed to making sure their Girl Scouts experience awesome adventures, and our council just made it even easier! We created the GSWPA Adventure Guide as a resource to navigate you to the newest GSWPA activities. The guide will be updated with newly posted activities for girls of all levels. And, you can even sign up for email notifications—never miss a new activity again!
Continue >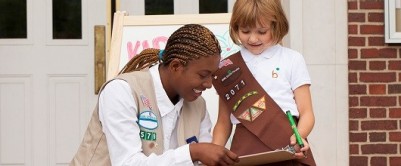 From National S'mores Day to summer camp to a rhino on the run, there's a lot going on at GSWPA! Don't miss out on things to do and upcoming deadlines in the July edition of Patched In.
Continue >



Girl Scouts recognized for earning highest honor, the Girl Scout Gold Award
17 Jun 2019
Girl Scouts Western Pennsylvania (GSWPA) congratulates 71 Girl Scouts on earning the Girl Scout Gold Award, the highest achievement in Girl Scouting. These Gold Award Girl Scouts cumulatively logged more than 5,500 hours of service, while designing and implementing projects to benefit their communities through education and resources.