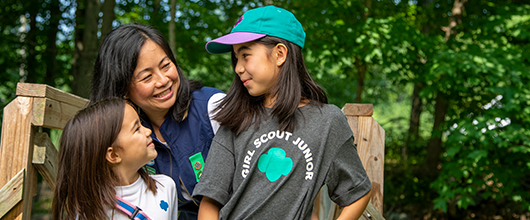 Become a Volunteer
As a volunteer, you'll introduce girls to new experiences that show them they're capable of more than they ever imagined.
You'll be their cheerleader, guide, and mentor, helping them develop skills and confidence that will last a lifetime. Imagine the smiles, the excitement, the memories made—those are the moments you'll share at Girl Scouts.
Whether you can give a little time or a lot, it all starts with you.


Register a Girl Member
Whether she joins an in-person or virtual troop or creates her own experiences as an Indie Girl Scout, a whole world of new opportunities is ahead.

Already a member? Renew today!
Join us for another year of fun by renewing your membership starting April 1 for the 2021-22 year.

Why Volunteer
Experienced educator and psychologist Dr. JoAnn Deak has demonstrated through her research that girls learn best and thrive in an all-girl environment. We had the privilege of welcoming Dr. Deak as the keynote speaker at the 2019 Awards of Distinction in Pittsburgh. Listen as she gives GSWPA mentors and volunteers advice about how to advocate for girls' growth and success.
Three things you can do for a Girl Scout 
A message from educator and phychologist JoAnn Deak, PhD
Click here to watch the full keynote speech by Dr. JoAnn Deak.