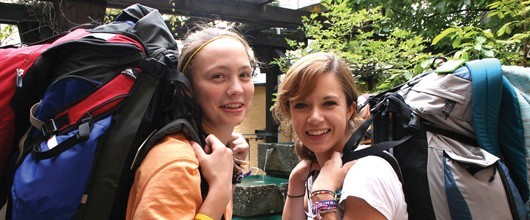 Travel
Girl Scouts love to travel—from the field trips they take as Brownies to the global adventures they go on as teens. If you love exploring different places and cultures, then Girl Scouts is the place for you.

You can experience all that our country has to offer, whether you're "blasting off" at Space Camp in Alabama, taking in a Broadway show in New York City, or visiting the birthplace of Girl Scouts' founder, Juliette Gordon Low, in Savannah, Georgia. And you can plan even bigger adventures around the world, traveling with other Girl Scouts who share your love of adventure.

Check out Girl Scout Destinations, the ultimate adventure program for girls ages 11 and older. With a ton of different trips to apply for every year—from surfing camp on the east coast and breathtaking hikes out west, to the crazy-cool wonder of new cultures abroad—there's something amazing for everyone to experience.
Make friends from all over the country as you travel with Girl Scouts from different states, see and learn new things, and pack your bags full of inspiring, life-changing experiences and memories. Find your trip today!

Where can you go?  Places like China, Costa Rica, Switzerland, Patagonia, Peru, Scotland, Germany, Mexico, and more!
How far will your Girl Scout experience take you? That's up to you!
Girl Scouts from western Pennsylvania will take on New York City June 27-29, 2019. Join us for a whirlwind weekend of travel and fun! 
Girl Scouts take on the Big Apple! 
Interested in becoming a Travel Advisor for one of our domestic trips? Email Customer Care at customercare@gswpa.org with the subject line Travel.


Juliette Low World Friendship Fund
Juliette Gordon Low believed that when girls travel the world, they have an unparalleled opportunity to foster cultural understanding. That's why the Juliette Low World Friendship Fund was formed in 1927 to support girls as they travel internationally, connect with sister Girl Guides, and take action globally.
Donations to the Juliette Low World Friendship Fund support girls' international travel and participation in training and other global events. These unique opportunities for building international friendships connect Girl Guides and Girl Scouts from nearly 150 nations. 
Give the gift of international travel…and make the world a better place!
Download the Contribution Form (PDF) or donate online.